With 15+ years of computer service experience, the E-Motion team noticed that individuals and companies striving to become amazing successes often felt hindered by ever-changing and growing technological advances.
For small to mid-size companies, there usually is no full-time or on-site IT department capable of troubleshooting and repairing technology problems, causing setbacks and discouragement. E-motion Computer Services can fill that void without your company having to hire a full-time IT department.
E-Motion Computer Services offers one-time service calls, IT outsourcing, and customized service plans tailored to fit your specific needs. We identify solutions through listening to and understanding your individual needs, and then recommend service options to best achieve your technology requirements and goals.
At E-Motion Computer Services, we understand that not all projects are confined to 9-5, Monday through Friday. Most problems occur when least expected. E-Motion Computer Services offers on-site service 24 hours a day, 7 days a week*.
To set up a free on-site estimate or get more information about E-Motion Computer Services, please send us an email or call us 508.429.3210.
For individuals, E-Motion Computer Services strives to help you feel more comfortable with your computer systems, be it a laptop, desktop, tablet PC, SmartPhone, printer, or other technological systems. Our goal is to educate and inform you about the best solution to meet your needs.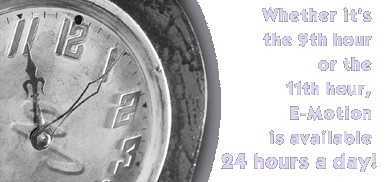 *Additional fees may apply for nights and weekends.